Condos apartments villas for sale | Pattaya Condoshop
Welcome to Pattaya Condoshop
Pattaya Condo Shop, leading real estate agency in Pattaya – jomtien, focusses on the best real estate objects to invest in. The most beautiful villas, houses, apartments and Pattaya condos for sale in only strategic locations such are Pratumnak, Na Jomtien, Pattaya City, Naklua, Wongamat and Jomtien. Planned projects, under construction or ready to move in real estate is what we are specialised in.
Pattaya Condo Shop provides international buyers with an excellent step-by-step service through the entire process of purchase. We believe in maximum involvement throughout and rely on our years of experience to guide You to the property of Your dreams in the Pattaya and Jomtien erea. Our extensive knowledge of the local market is second to none. Beside the fact that each client gets personal attention, agent skilled to communicate in different languages, we have the best offers in town and can truly guarantee the best unique prices of all agencies in area.
Top 4 new developments
Top 4 property promotions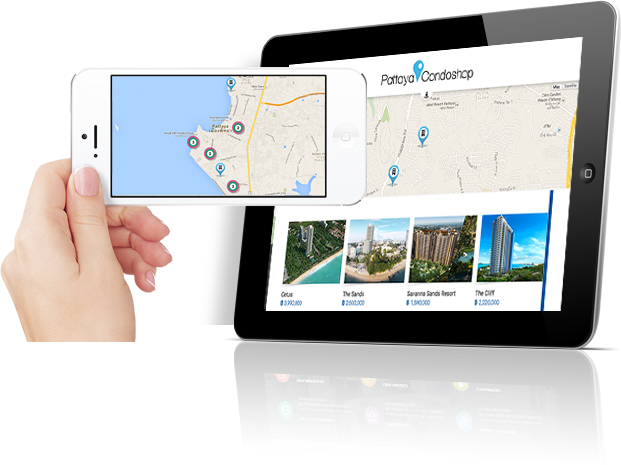 Find homes on the go
Use our property map

Filter with the map search

Pinpoint your location

Find nearby property

Mobile and Tablet friendly

Featured articles
When you are interested in buying a Pattaya condo, there are a number of things you often need to keep in mind in order to have an easier time going about it. A very good example of this is the EIA of the building. EIA stands for Environmental Impact Assessment, and is a measure ...
In Thailand, hundreds of thousands of expats reside here and make it their second home for the long term. Due to the favourable weather and the affordable standard of living, it is not hard to understand why the majority of the expats have selected this path. In particular, expats also favoured the choice to ...
Buying a condo in Pattaya can be a pretty exciting process for many people. The reason for this is that since they are very cheap, most people who do this are often buying property for the first time. In addition to that, the fact that the process has been made to be very easy ...