Condos apartments villas for sale | Pattaya Condoshop
Welcome to Pattaya Condoshop,
We are committed to helping you to find your ideal property at the best possible price.
We don't believe in nor do we use any hard-sale pressure tactics to induce you to buy, instead we choose to focus on your needs as an individual buyer who's reliant on us as your agent to give you not only worthwhile but also honest and impartial advice, so that you can make an informed decision about which property is right for you from amongst our extensive range of condos & houses that we have for sale.
Obviously it almost goes without saying that the price and payment terms must be right and this is where we'll really prove our worth by aggressively negotiating on your behalf whilst at the same time making sure that you have a thorough understanding of your property rights under Thai Law in the land of smiles.
Therefore our primary role is to advise & guide you through every step of the buying process from start to finish. Whilst being mindful of the fact that you're entrusting us with your hard earned money and as such we don't employ cowboys, instead we have gone to extraordinary lengths to only hire real estate professionals with a proven track record of honesty & integrity to be members of our dedicated sales team.
In a nutshell our good reputation means everything to us and we're here for the long haul, hence the reason as to why every member of our sales team is expected to adhere to the highest of ethical standards when dealing with you.
So please take the time to browse through our website and hopefully in the not to distant future you will decide to become one of our valued and satisfied customers.
Top 4 new developments
Top 4 property promotions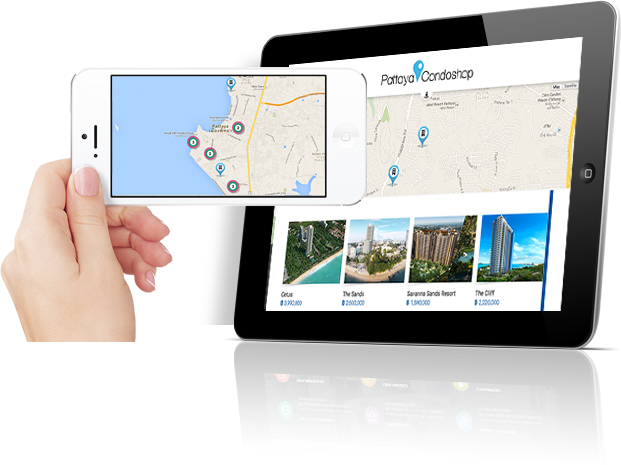 Find homes on the go
Use our property map
Filter with the map search
Pinpoint your location
Find nearby property
Mobile and Tablet friendly
Featured articles
When you are interested in buying a Pattaya condo, there are a number of things you often need to keep in mind in order to have an easier time going about it. A very good example of this is the EIA of the building. EIA stands for Environmental Impact Assessment, and is a measure ...
In Thailand, hundreds of thousands of expats reside here and make it their second home for the long term. Due to the favourable weather and the affordable standard of living, it is not hard to understand why the majority of the expats have selected this path. In particular, expats also favoured the choice to ...
Buying a condo in Pattaya can be a pretty exciting process for many people. The reason for this is that since they are very cheap, most people who do this are often buying property for the first time. In addition to that, the fact that the process has been made to be very easy ...