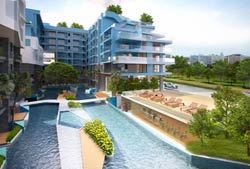 It is a rare privilege to have the opportunity to live in a true work of art. For those to whom the journey of life itself is a work art there is just no other way to live. For you who demand beauty in every aspect of existence, Acqua Condos beckons.
Before considering Acqua's avant garde design and beautiful appointments, first look to its location. Nestled into the lush and pristine Chaweng Noi mountains on the legendarily beautiful island of Koh Samui off the coast of Thailand's premier resort destination of Pattaya you could make the mistake of expecting Acqua to be just another luxury resort condominium complex. It is not. Acqua's revolutionarily nouveau design stands out not only from the other resorts in the area but from any other in the world. Truly eye catching and always captivating from the outside, Acqua Resort Jomtien still manages to be comfortable and homey on the inside. With eleven spacious and highly livable spaces inside each beachside condo you'll be as happy on the inside looking out as you are from the beach, proudly looking up at your residence.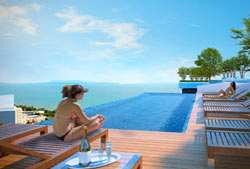 What may not surprise you about Acqua is that its two cornerstone buildings are erected around a central fifty meter pool fit for Ariel from The Little Mermaid. Slightly more surprising are the two rooftop pools – but of course you wouldn't think a landmark project named after water to be short of swimming facilities. What is a little surprising is how family friendly this highly sophisticated luxury residence is. The kid area is enough to make visitors wish they were kids again, the yoga area is perfect for couples relaxation and when the day is nearly done there's nothing like lighting up a grill in the barbecue area. When it comes to recreation, Acqua Pattaya is lacking in nothing. It's almost a pity how nice it is inside. You may never leave to explore all that the island of Koh Samui has to offer for your entertainment and relaxation.
Condominiums at Acqua start at just over 1.2 million baht, a surprisingly competitive price for floorplans rivaling the best condos in Thailand. Available units include studios, one bedroom and two bedrooms, ensuring that no matter your needs Acqua's got you covered.