Themed condos are quite a popular trend of real estate investment in Pattaya. With their fun designs, facility-rich grounds (which includes anything from lavished pools, Jacuzzi , bars and saunas just to name a few) and generally lower prices compared to their non-themed cousins , they do indeed sell fast!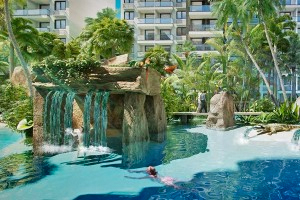 A big advantage of the Amazon Resort Condo is that it posses larger rooms than most themed condos built in Pattaya ( these generally offer studio rooms or 1 bedroom apartments). The Amazon development will have fully furnished 2-bedroom apartments for sale, at an extremely attractive prices that start at around 1.8 million THB (again quite an uncommon price tag for the potential benefits one gets!)
The Rooms
1 bedroom apartments vary between 35sqm-41sqm and so do their designs and furniture arrangement- so do take the time to see all the available options! 2 bedroom apartment at the Amazon Resort and Condo will have an area of around 70 sqm, though investors have the opportunity to buy adjacent rooms transforming them in to side by side units.
In case you were wondering , Amazon is described as a resort because if the owners of the rooms aren't occupying them, then these units can be rented per night just like a hotel. This has a couple of advantages for investors: One doesn't have to worry about maintenance as you can be reassured the managing company has a huge interest in keeping your room tidy and in order (they do want to rent it on the daily bases after-all!). Furthermore, as the owner of the room you do have the power to rent your apartment on a longer term if that's what you wish. This creates a win win situation, specially if you own a few rooms here, you can choose to stay in one of them while you rent the rest daily or long term (it all depend on the demand, but you will have some power to choose!)
Location of the Amazon resort condo
The location (you can see a map just below) is perfect for a range of lifestyles; Jomtien beach (about the quietest beach on Pattaya) is just 800 meters away while the crazier side of Pattaya, which includes walking street and the beer bars on soi 2 and 3, are easily reachable by a short 15 minute car drive … given that there is not traffic of-course! The omnipresent Sukunvit road is also easily accessible by car or motorbike, and the fact that you can get motorbike taxis and songtaews just outside the complex also makes Amazon a great choice for those that don't yet have a personal car or motorbike.
Got questions? We can help!
Another ideal factor that the Amazon Resort and Condominium offers is the fact is already built, no need to picture what it will look like once its finished, you don't have to worry about lying or tricky sales men, just contact us at Pattaya Condoshop and we'll arrange an actual visit! Nothing better than to make an informed decision through your own eyes right?